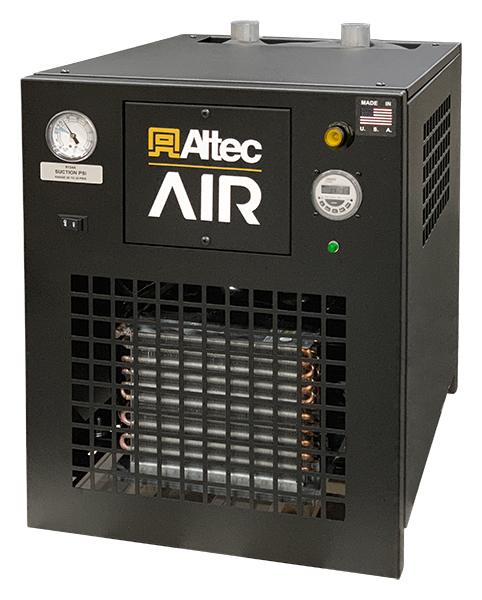 PA Series
Digital Programmable Refrigerated Air Dryers
75 to 3000 SCFM
The PA Series Digital Programmable Non-Cycling Refrigerated Air Dryer takes the UA Series platform and adds the functionality of programming scheduled ON / OFF operating hours to reduce energy costs.
Digital Programmable Control Timer (PCT) Reduces Energy Costs
Compact All-Aluminum Heat Exchanger Modules with LowPressure Drops
Programmable Automatic Electronic Drains
Easy-Access Cabinet Design for Ease of Maintenance & Serviceability
Suction & Pressure Gauges Provide Simple & Reliable Monitoring of the Dryer's Refrigeration System
Top Mounted Inlet & Outlet Connections Allow for Easy Installation of Dryer, Filters, & Bypass Valves
Standard Features:
Outlet Dewpoint with 100°F / 38°C Saturated Inlet

38° F Pressure Dewpoint (PDP)

Available Input Voltages*

115 VAC, 1 Phase, 60Hz
208-230 VAC, 1 Phase, 60Hz
230 VAC, 3 Phase, 60Hz
460 VAC, 3 Phase, 60Hz
575 VAC, 3 Phase, 60Hz

Maximum Pressure - 232 PSIG
Maximum Inlet Temperature - 120°F / 49°C
*NOTE: Voltage options are dependent on specific models.
Contact Us for details.
Optional Features:
Air-Pac Filter Kits
Bypass Valve
Ambient Air Filter
General Specifications:
PA75
PA100
PA125
PA150
PA200
PA300
PA400
PA500
INLET Flow:


(SCFM @ 100 PSIG)

75
100
125
150
200
300
400
500
Inlet / Outlet Ports


(NPT)

1"
1-1/2"
2"
Drain Port


(NPT)

1/4"
Refrigerant Type
R134a
R404a
PA625
PA800
PA1000
PA1200
PA1600
PA2000
PA2500
PA3000
INLET Flow:


(SCFM @ 100 PSIG)

625
800
1000
1200
1600
2000
2500
3000
Inlet / Outlet Ports


(NPT)

2"
3"
4"
6"

(FLG)

Drain Port


(NPT)

1/4"
1/2"
Refrigerant Type
R404a
Dimensions:
Weight


(lbs)

Height


(in)

Width


(in)

Depth


(in)

PA75
165
26
20
26
PA100
169
PA125
205
PA150
210
PA200
250
32
25
32
PA300
310
PA400
486
48
29
44
PA500
526
PA625
549
PA800
855
59
35
52
PA1000
875
PA1200
900
PA1600
1400
70
40
56
PA2000
1595
PA2500
1755
78
51
69
PA3000
1945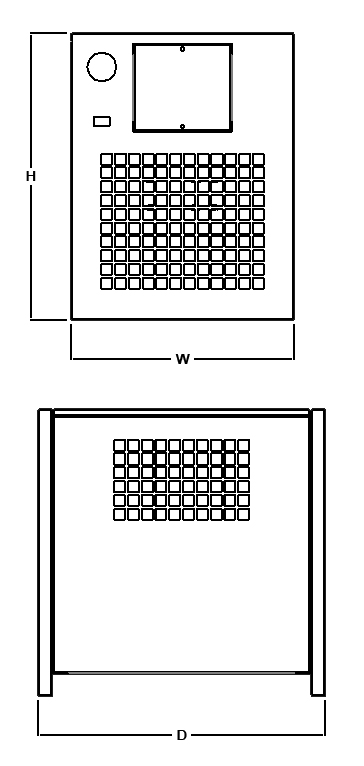 Multiplier Table (Sizing Dryers for Variable Conditions):
Corrected Inlet Flow Capacity =
INLET Flow (above)
x
Inlet Pressure
Correction Factor
(A)
x
Inlet Temp
Correction Factor
(B)
x
Dewpoint
Correction Factor
(C)
x
Ambient Temp
Correction Factor
(D)
Actual Pressure

(PSIG)

50
80
100
125
150
175
200
Correction Factor (A)
0.85
0.95
1.00
1.07
1.13
1.18
1.20
Inlet Temp

(°F)

80
90
100
110
120
140
Correction Factor (B)
1.50
1.21
1.00
0.72
0.61
0.53
Dewpoint

(°F)

38
45
50
Correction Factor (C)
1.00
1.24
1.29
Ambient Temp

(°F)

70
80
90
100
110
Correction Factor (D)
1.10
1.07
1.05
1.00
0.94