Altec AIR recently held a Social Committee sponsored Contest for our Associates. Because we haven't been able to have many company-wide social activities due to the Covid situation, the Social Committee (I can't remember who suggested the idea) initiated a "T-Shirt Design Contest". The idea was to get the Associates working in the same area/department to work together on creating and submitting a design.
The plan: Work with the Associates within your area/department (since they are already working and interacting with each other, it was less of a Covid concern), develop a work appropriate design together, submit the design to the Social Committee, the entire Company would vote on their favorite Design, and then the Social Committee would have that Design printed on T-Shirts for EVERYONE at Altec AIR.
The Contest turned out to be a popular one among our Associates, with many Teams submitting various, creative Designs. Once the submission deadline was reached, and all of the Designs were turned in, we gathered them all together onto a voting sheet and sent it out to all of our Associates. It was a close race, with so many good choices, but, in the end, only one Team Design could be the winner.
And the Winner is...... (drum roll, drum roll, drum roll)......
"IN THIS TOGETHER"
by
Edolyn, Matt, Nelson, Sal, and Terry!!!!!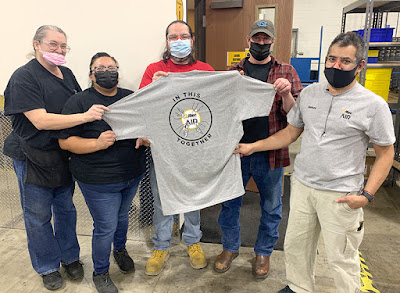 Left to Right: Terry, Edolyn, Sal, Matt, Nelson
Essentially, they were brainstorming ideas and Sal had mentioned a #hashtag he had been seeing around on various media outlets - #inthistogether. So, from there, Edolyn said that it did feel like the Associates had become closer to each other, coming in to work during the pandemic; and it's because we ultimately strive to take care of our Customers, and we can't do it alone (hence the puzzle imagery). She wanted hands to be placing the pieces, so she went ahead and actually hand sketched each of their hands - Matt's, Nelson's, Sal's & Terry's (she is super talented!!).
| | |
| --- | --- |
| | |
| Submitted Design | Design Printed on T-Shirt |
That was the inspiration behind their winning Design; that in order to take care of our Customer, we have to continue to work together, and even during times like these...We Are Family, We Are Altec AIR, and We Are In This Together!