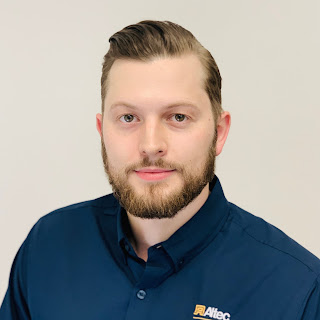 I am pleased to announce that Tom Brennan has accepted the role of Project Manager for Altec AIR.
Tom did multiple engineering coops with Altec in Birmingham between 2013 and 2015 and joined Team Altec full-time in 2016 after earning his Mechanical Engineering degree from the University of Alabama.
He began his career as an Applications Engineer in Roanoke. In the summer of 2018 he moved to Colorado to join Altec AIR's engineering team. Over the last several years Tom has served as a Technical Lead on multiple projects, delivered positive results on product support and quality issues, and led efforts to continuously improve our organization's engineering standards and processes.
Tom will fully transition to this new role over the next month and immediately begin working with his new mentor, Julie Toeller. While he will formally continue reporting through me for the foreseeable future, Tom will join the ranks of Altec's Project Management team and take on Core Team Lead responsibilities for all New Product Creation efforts at Altec AIR. He will work closely with our management team to execute our Product Roadmap and continue raising the bar for Product Development at Altec AIR.
Please join me in congratulating Tom!