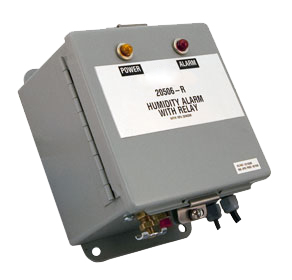 Humidity Alarms
Standard Features:
P010124G Series
Prevents costly contamination by detecting moisture and generating simultaneous audible and visual alarms, as well as open and closed-circuit conditions for integration into a control system.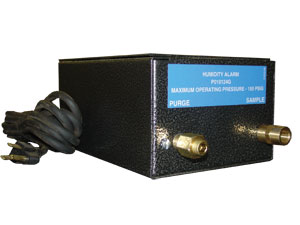 | | |
| --- | --- |
| | Description |
| P010124G1 | 5 - 15% RH, 110 VAC |
| P010124G2 | 5 - 15% RH, 220 VAC |
| P010124G3 | 1.6 - 6% RH, 110 VAC |
| P010124G4 | 1.6 - 6% RH, 220 VAC |
20506 Series
The electronic humidity alarm alerts the dry contactor to close when wet air is detected and a red alarm light warns the end user moisture is in the air stream. The dry-contact alarm signal can be monitored at a remote location, wired to energize a horn or buzzer. The alarm operates on 115 volt AC power and is enclosed in a NEMA 4 rated box.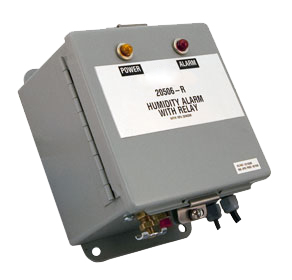 Continuously Monitors Compressed Air Moisture Levels
Models with 3% RH or 10% RH Sensors
Dry Contact Relay for Remote Alarm Signal
Local Red Alarm Light
NEMA 4 Electrical Enclosure
Solid State Humidity Alarm Board
Easily Installed Anywhere Downstream of Desiccant Dryer
| | |
| --- | --- |
| | Description |
| 20506-R | 10% RH, 110 VAC |
| 20506-R3 | 3% RH, 110 VAC |
Description:
These electronic humidity alarms are installed downstream of a regenerative desiccant dryer. The humidity alarm consists of a resistance type humidity sensor, sensor housing with a bleed orifice, an electronic humidistat, remote alarm signal via dry contacts, and a red alarm light. A continuous sample of the compressed air contacts the sensor as it passes through the sensor housing and is exhausted through the bleed orifice. The pressure dew point of this air, under normal dryer operating conditions, is -40°F. While the sample air is dry, the humidistat energizes the remote alarm relay holding the remote alarm contacts open.
When continuous monitoring of your downstream relative humidity is needed, Altec AIR offers two RH detection levels. The 20506 will detect 10% RH level (equivalent to a +18°F pressure dew point at 80°F sensor temperature) or the 20506-R3 will detect a 3% RH level (equivalent to a -7°F pressure dew point at 80°F sensor temperature). Lower sensor resistance causes the humidistat board to energize the red alarm light on cover and de-energize the remote alarm relay, allowing the remote alarm contacts to close, providing a dry contact signal to the remote alarm leads. Once the air system or dryer malfunction is corrected, the dry sample air flow will dry the sensor and clear the alarm. If power is interrupted to the electronic humidity alarm, the remote alarm contacts will close. The electronic humidity alarm is pre-set making no adjustments necessary before or after installation.