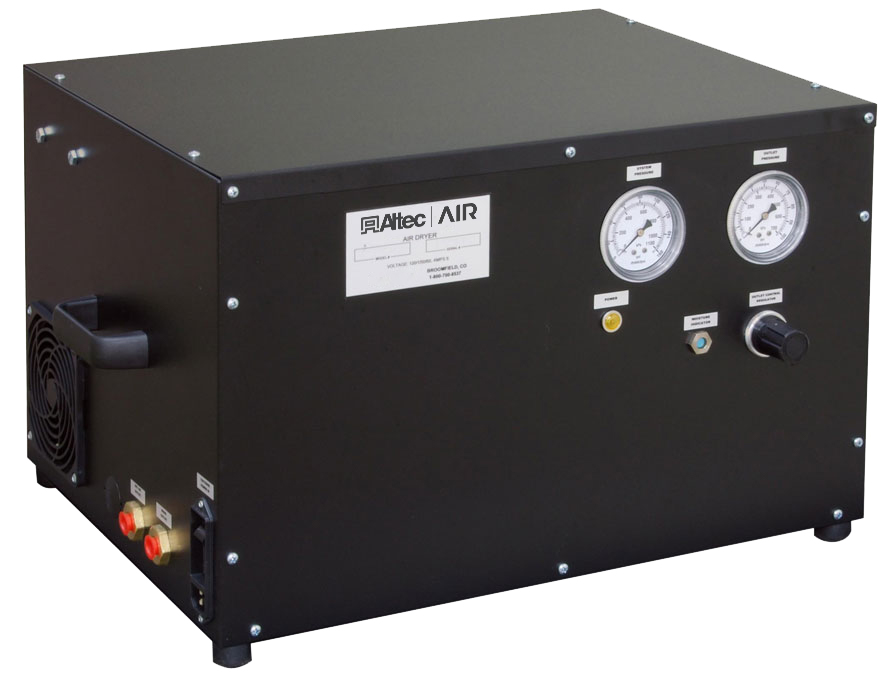 CDA Series
Compressed Dry Air Packages
Altec AIR's Clean Dry Air Package is a complete, enclosed, compact unit, consisting of an Oil-less Air Compressor, Regenerative Desiccant Air Dryer, Regulator, Coalescing and Particulate Filters. This packages is great for applications requiring low volumes of clean, dry compressed air at pressures up to 75 PSIG.
Standard Features:
Reliable oil-less Compressor to assure oil-free air at all times.
Equipped with Rocking Piston Pump technology for long interval times between maintenance and easy service.
Proven Regenerative Desiccant Heatless Air Dryer uses dual tower technology for continuous dry air supply.
General Specifications:
CDA10
CDA10-2
Output Capacity
Normal: 5 LPM Continuous
Maximum: 10 LPM Emergency
Power Requirements


(15 Amp Service Recommended)

115 VAC, 1 Phase, 50/60 Hz
230 VAC, 1 Phase, 50/60 Hz
Outlet Pressure Range
0 - 75 PSIG (0 - 5.1 bar)
Outlet Dew Point
-100°F (-73°C) Atmospheric Dew Point
Compressor Type
1/3 HP, Oil-less, Rocker Piston
Dehydrating Method
Heatless Desiccant
Environment Operating Temperature Range
Minimum: 33°F (1°C)
Optimal: 70°F (21°C)
Maximum: 120°F (49°C)
Outlet Connection
1/4" NPT x 1/4" Press-to-Lock Tube Fitting
Drain Connection
1/4" NPT x 3/8" Press-to-Lock Tube Fitting
Dimensions
18" D x 24" W x 14" H (45.7 cm D x 61.0 cm W x 35.6 cm H)
Weight
72 lbs (32.7 kgs)