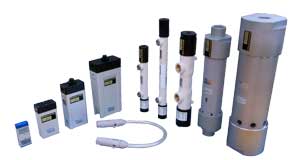 Membrane Air Dryers
& Gas Sample Dryers
Membrane Air Dryers and Membrane Gas Sample Dryers are essential components in a wide variety of compressed air applications. The special membrane fibers of the membrane air dryers provide a safe, effective, and efficient way to separate water from other molecules in compressed air systems and release it as dry air. Membrane gas sample dryers remove water molecules from a gas sample without affecting the concentrations of other components to be analyzed.
Whether you're working with environmental chambers and pneumatic automation systems or you have a waveguide drying or analytical instrumentation application, membrane dryers are often the best solution.
Standard Features:
Eco-friendly use with no refrigerants or desiccants
Air dryer models with outflows from 0.60 to 25 SCFM
Gas sample dryer models with outflows from 2 to 10 lpm
No power, moving parts or maintenance requirements
Patented membrane fiber technology
Safe for use in hazardous locations
Barrel Type Membrane Air Dryers:
These air dryers come in five distinctive models featuring ¼-inch to 1-inch port sizes. The larger membrane bundles used make barrel membrane dryers excellent choices for higher flow requirements.
Cassette Type Membrane Air Dryers:
If you need to install a membrane dryer into a tight space, this model is an effective solution. We carry six distinctive sized models ranging from 0.5 to 7 SCFM outflows to fit your specific installation and operation specifications.
Flexible Type Membrane Air Dryers:
This membrane air dryer can be utilized in confined spaces between critical components and actually bends to accommodate a tight fit. The model features a ¼-inch port size, 1.25 SCFM in, 1.0 SCFM out and choices of external valve or orifice purge control.
Gas Sample Dryers: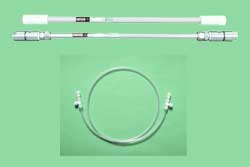 These are an important component for conditioning gas samples before sensitive gas analyzers and in process monitoring applications. Models range from 2 to 10 LPM, feature maximum operating pressures of 72 PSIG, and a +5°F to 212°F operating temperature range depending on the model.
Membrane Air Dryer Specifications:
Maximum Operating Pressure


(PSIG)

Operating Temperature Range
Port Size


(NPT)

Inlet Flow*


(SCFM)

Outlet Flow*


(SCFM)

Weight


(lbs)

Purge Control
Barrel Type
SWB-01-100
120
32°F - 130°F
1/4"
3.8
3
0.49
External Valve or Orifice
SWB-01-100-SSN
0.95
SWB-01-200
6.3
5
0.51
SWB-01-200-SSN
1.40
SWB-02-100
3/8"
8.0
6.4
1.39
SWB-02-100-SSN
1.95
SWB-05-100
13.2
10.6
1.48
SWB-05-100-SSN
2.10
SWB-10-150
1/2"
20
16
2.90
Internal Fixed
SWB-17-200-SSN
1"
25
20
10.60
Cassette Type
SWC-M04-70
120
32°F - 130°F
M5
0.6
0.5
0.11
External Valve or Orifice
SWC-M08-100 / TMC-25-2
1/8"
0.9
0.7
0.57
Internal Fixed
SWC-M15-100 / TMC-50-2
1.5
1.1
0.60
SWC-01-150
1/4"
4.7
3
0.93
Variable Three Position
SWC-02-250
3/8"
6.8
5
1.52
SWC-03-250
9.6
7
1.56
Flexible Type
SWF-M06-400
120
32°F - 130°F
1/4"
1.25
1.0
0.22
External Valve or Orifice
* Flows at 100 PSIG, 70°F Inlet
Output at 35°F - 40°F Pressure Dew Point
Gas Sample Dryer Specifications:
Maximum Operating Pressure


(PSIG)

Operating Temperature Range
Port Size


(NPT)

Maximum Flow*


(lpm)

Weight


(lbs)

Purge Control
SWG-A01-03/PP
120
32°F - 130°F
1/4"
2
0.20
External Instrument Air or N2
SWG-A01-06/PP
0.25
SWG-A01-12/PP
0.35
SWG-A01-18/PP
0.45
SWG-A01-24/PP
0.55
SWG-A01-36/PP
0.65
SWG-A01-03/KF
0.20
SWG-A01-06/KF
0.25
SWG-A01-12/KF
0.35
SWG-A01-18/KF
0.45
SWG-A01-24/KF
0.55
SWG-A01-36/KF
0.65
SWG-035-06/PP
1/4" - 1/8"
5
1.1
SWG-035-12/PP
1.4
SWG-100-06/PS
10
2.1
SWG-100-12/PS
2.4
SWG-100-6/SS
3.1
SWG-100-12/SS
3.4
* Flows at 100 PSIG, 70°F Inlet
Output at 35°F - 40°F Pressure Dew Point