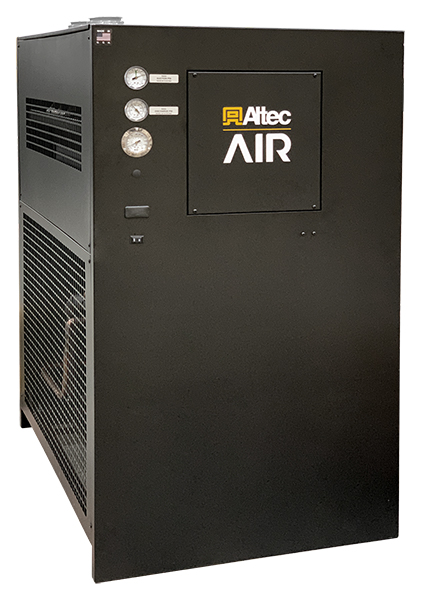 DX Series
Energy Saving Air Dryers
400 to 2000 SCFM
The DX Series Refrigerated Air Dryers were developed with the ability to match their power consumption in direct proportion to the current heat load of the air dryer.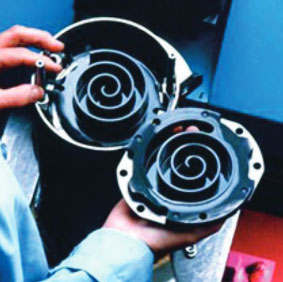 Consistent & Reliable Dry Air - ISO Class 4 - 5
Digital Scroll Energy-Saving Refrigeration Compressor
Capacity Modulation Control Reduces Power Consumption up to 90%
Compact All-Aluminum Heat Exchanger Modules with Low Pressure Drops
Programmable Automatic Electronic Drains
Easy-Access Cabinet Design for Ease of Maintenance & Serviceability
Standard Features:
Available Input Voltages*

208-230 VAC, 1 Phase, 60Hz
230 VAC, 3 Phase, 60Hz
460 VAC, 3 Phase, 60Hz
575 VAC, 3 Phase, 60Hz

Maximum Pressure - 232 PSIG
Maximum Inlet Temperature - 120°F / 49°C
*NOTE: Voltage options are dependent on specific models.
Contact Us for details.
Optional Features:
General Specifications:
DX400A
DX500A
DX625A
DX800A
DX1000A
DX1200A
DX1600A
DX2000A
INLET Flow:


(SCFM @ 100 PSIG)

400
500
625
800
1000
1200
1600
2000
Inlet / Outlet Ports


(NPT)

2"
2-1/2"
3"
4"
Drain Port


(NPT)

3/8"
1/2"
Refrigerant Type
R404a
Dimensions:
Weight


(lbs)

Height


(in)

Width


(in)

Depth


(in)

DX400A
486
48
29
44
DX500A
526
DX625A
549
DX800A
855
59
35
52
DX1000A
875
DX1200A
900
DX1600A
1400
70
40
56
DX2000A
1595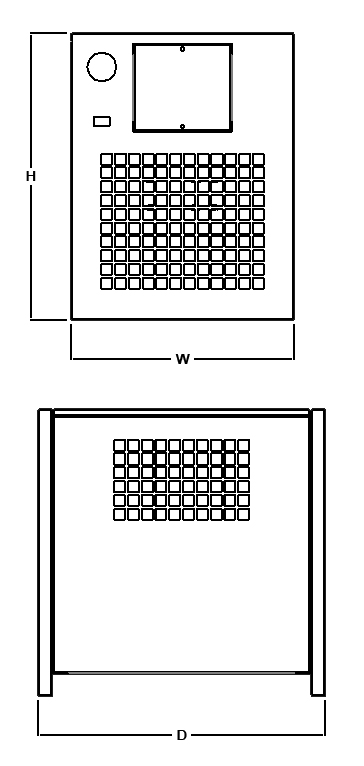 Multiplier Table (Sizing Dryers for Variable Conditions):
Corrected Inlet Flow Capacity =
INLET Flow (above)
x
Inlet Pressure
Correction Factor
(A)
x
Inlet Temp
Correction Factor
(B)
x
Ambient Temp
Correction Factor
(C)
Actual Pressure

(PSIG)

50
80
100
125
150
175
200
Correction Factor (A)
0.85
0.95
1.00
1.07
1.13
1.18
1.20
Inlet Temp

(°F)

80
90
100
110
120
140
Correction Factor (B)
1.50
1.21
1.00
0.72
0.61
0.53
Ambient Temp

(°F)

70
80
90
100
110
Correction Factor (C)
1.10
1.07
1.05
1.00
0.94
Refrigeration Air Drying Process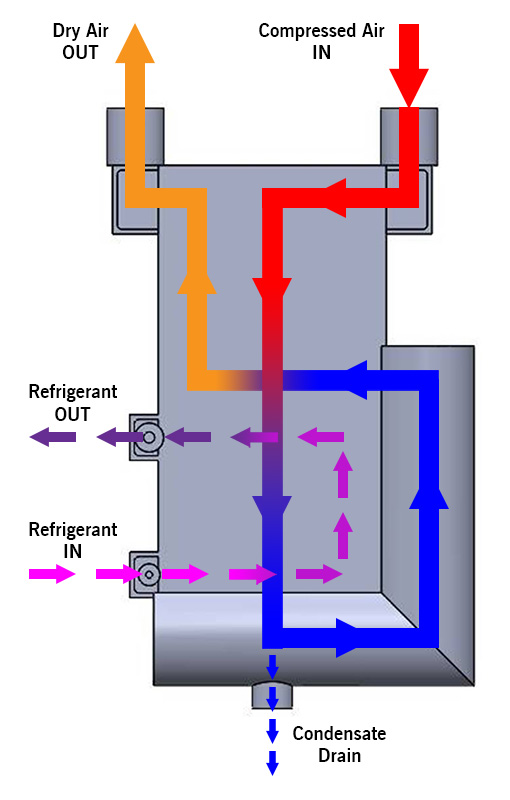 Altec AIR Refrigerated Air Dryers use refrigeration cooling to condense moisture and remove it from a compressed air system.
Warm saturated air enters a pre-cooler/re-heater heat exchanger at the dryer inlet and is pre-cooled by outgoing cold air.
The pre-cooled air then enters the air to refrigerant heat exchanger and is cooled to its lowest point.
As the air is cooled, the moisture it contains changes from a vapor to a liquid and is removed by a stainless-steel mesh separator and discharged from the dryer through an automatic drain valve.
The cold air is then re-heated by incoming warm air as it passes back through the pre-cooler/re-heater.
The resulting warm air that exits the dryer is clean, dry and ready for use by a compressed air system.
This tool will help you size the perfect DX Series Energy Saving Refrigerated Air Dryer for your Compressor Output and Environmental Conditions. Simply enter the data & conditions and you'll be presented with the Part Number for the DX Series Air Dryer that will work optimally for those conditions. We will also provide Part Numbers for the Filter Kits that were created to match that DX Series Air Dryer perfectly.
Please use the latest version of Chrome, Firefox or Safari.
Internet Explorer not currently supported.
---
Required *

---
Please use the latest version of Chrome, Firefox or Safari.
Internet Explorer not currently supported.