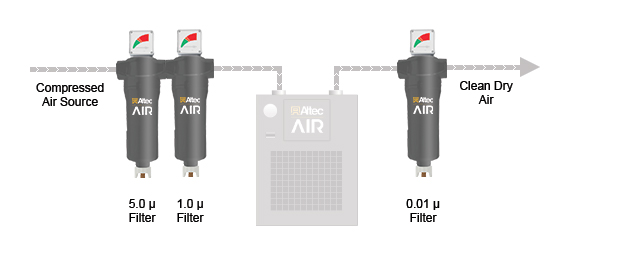 Compressed Air Filter Kits
For Desiccant & Refrigerated Air Dyrers
Matched to Air Dryers in Flow,
Performance & Connection Size
Altec AIR has created these Complete Compressed Air Filter Kits to take the guesswork out of which Filters you need to protect your specific Air Dryer, as well as any downstream processes, from contaminants found in the compressed air supply. These Kits are matched to your Refrigerated and Desiccant Air Dryers in both Flow, Performance & Connection Size ensuring their protection matches the requirements of the incoming compressed air as well as the resulting outgoing Clean, Dry Air.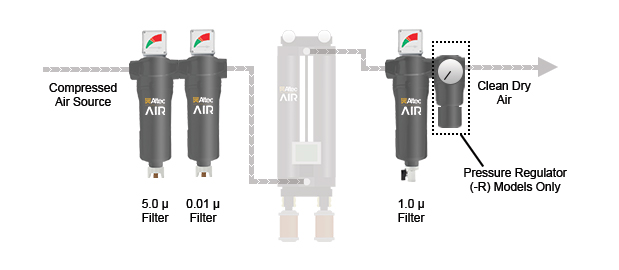 These Kits come with Filter Elements installed and all of the hardware necessary for joining Filters together.
Just find the Filter Kit Part Number that matches your Air Dryer and necessary level of protection. It's just that Simple!
See the A Series and A-PRO Series pages for Dimension & Element Class details.
AR10 Series Kits for Refrigerated Air Dryers - (1) Pre-Filter

**

Kits Include:

(1) X1 Grade - 1 micron Coalescing Filter

Rated ISO 8573-1 Class 3.4.3
Connection Sizes ranging from 1/2" to 3" NPT and 4" Flanged
Differential Pressure Indicators -

Pop-up Indicators on AR10-0010 & AR10-0025
Gauge Indicators on AR10-0040 thru AR10-2000

Automatic Float Drains

**The AR10 Series Filter Kits DO NOT meet the minimum requirement for Extended Warranty.

Filter Kit
Use with Air Dryer
Connection Size


(NPT)

Replacement Filter Elements
AR10-0020
UA20A
1/2"
ER10-0020
AR10-0025
RAD-0025A
UA25A
ER10-0025
AR10-0040
RAD-0040A
UA40A
3/4"
ER10-0040
AR10-0055
RAD-0055A
UA55A
ER10-0055
AR10-0075
RAD-0075A
UA75A
1"
ER10-0075
AR10-0100
RAD-0100A
UA100A
ER10-0100
AR10-0125
UA125A
ER10-0125
AR10-0150
RAD-0150A
UA150A
1-1/2"
ER10-0150
AR10-0200
RAD-0200A
UA200A
ER10-0200
AR10-0250
RAD-0250A
UA250A
ER10-0250
AR10-0300
RAD-0300A
UA300A
2"
ER10-0300
AR10-0400
UA400A
DX400A
ER10-0400
AR10-0500
UA500A
DX500A
ER10-0500
AR10-0625
UA625A
DX625A
ER10-0625
AR10-0800
UA800A
DX800A
3"
ER10-0800
AR10-1000
UA1000A
DX1000A
ER10-1000
AR10-1200
UA1200A
DX1200A
ER10-1200
AR10-1600
UA1600A
DX1600A
4" Flange
ER10-1600
AR10-2000
UA2000A
DX2000A
ER10-2000
AR11 Series Kits for Refrigerated Air Dryers - (1) Pre-Filter & (1) After-Filter

*

Kits Include:

(1) X1 Grade - 1 micron Coalescing Pre-Filter
(1) XA Grade - 0.01 micron Coalescing After-Filter

Rated ISO 8573-1 Class 1.4.1
Connection Sizes ranging from 1/2" to 3" NPT and 4" Flanged
Differential Pressure Indicators -

Pop-up Indicators on AR11-0010 & AR11-0025
Gauge Indicators on AR11-0040 thru AR11-2000

Automatic Float Drains

*These Kits meet the minimum requirement for Extended Warranty.

Filter Kit
Use with Air Dryer
Connection Size


(NPT)

Replacement Filter Elements
AR11-0020
UA20A
1/2"
ER11-0020
AR11-0025
RAD-0025A
UA25A
ER11-0025
AR11-0040
RAD-0040A
UA40A
3/4"
ER11-0040
AR11-0055
RAD-0055A
UA55A
ER11-0055
AR11-0075
RAD-0075A
UA75A
1"
ER11-0075
AR11-0100
RAD-0100A
UA100A
ER11-0100
AR11-0125
UA125A
ER11-0125
AR11-0150
RAD-0150A
UA150A
1-1/2"
ER11-0150
AR11-0200
RAD-0200A
UA200A
ER11-0200
AR11-0250
RAD-0250A
UA250A
ER11-0250
AR11-0300
RAD-0300A
UA300A
2"
ER11-0300
AR11-0400
UA400A
DX400A
ER11-0400
AR11-0500
UA500A
DX500A
ER11-0500
AR11-0625
UA625A
DX625A
ER11-0625
AR11-0800
UA800A
DX800A
3"
ER11-0800
AR11-1000
UA1000A
DX1000A
ER11-1000
AR11-1200
UA1200A
DX1200A
ER11-1200
AR11-1600
UA1600A
DX1600A
4" Flange
ER11-1600
AR11-2000
UA2000A
DX2000A
ER11-2000
AR21 Series Kits for Refrigerated Air Dryers - (2) Pre-Filters & (1) After-Filter

*

Kits Include:

(1) X5 Grade - 5 micron Coalescing Pre-Filter
(1) X1 Grade - 1 micron Coalescing Pre-Filter
(1) XA Grade - 0.01 micron Coalescing After-Filter

Rated ISO 8573-1 Class 1.4.1
Connection Sizes ranging from 1/2" to 3" NPT and 4" Flanged
Differential Pressure Indicators -

Pop-up Indicators on AR21-0010 & AR21-0025
Gauge Indicators on AR21-0040 thru AR21-2000

Automatic Float Drains

*These Kits meet the minimum requirement for Extended Warranty.

Filter Kit
Use with Air Dryer
Connection Size


(NPT)

Replacement Filter Elements
AR21-0020
UA20A
1/2"
ER21-0020
AR21-0025
RAD-0025A
UA25A
ER21-0025
AR21-0040
RAD-0040A
UA40A
3/4"
ER21-0040
AR21-0055
RAD-0055A
UA55A
ER21-0055
AR21-0075
RAD-0075A
UA75A
1"
ER21-0075
AR21-0100
RAD-0100A
UA100A
ER21-0100
AR21-0125
UA125A
ER21-0125
AR21-0150
RAD-0150A
UA150A
1-1/2"
ER21-0150
AR21-0200
RAD-0200A
UA200A
ER21-0200
AR21-0250
RAD-0250A
UA250A
ER21-0250
AR21-0300
RAD-0300A
UA300A
2"
ER21-0300
AR21-0400
UA400A
DX400A
ER21-0400
AR21-0500
UA500A
DX500A
ER21-0500
AR21-0625
UA625A
DX625A
ER21-0625
AR21-0800
UA800A
DX800A
3"
ER21-0800
AR21-1000
UA1000A
DX1000A
ER21-1000
AR21-1200
UA1200A
DX1200A
ER21-1200
AR21-1600
UA1600A
DX1600A
4" Flange
ER21-1600
AR21-2000
UA2000A
DX2000A
ER21-2000
AD11 Series Kits for Desiccant Air Dryers - (1) Pre-Filter & (1) After-Filter

*

(HR Series Air Dryer shown for reference ONLY)

Kits Include:

(1) XA Grade - 0.01 micron Coalescing Pre-Filter
(1) X1 Grade - 1 micron Particulate After-Filter

Rated ISO 8573-1 Class 3.2.1**
Differential Pressure Indicators -

Pop-up Indicators on AD11-HR14 thru AD11-HR57

Float Drains -

Automatic Float Drains on Coalescing Pre-Filters
Manual Drains on Particulate After-Filters

**HR Series Desiccant Air Dryers can be rated for
ISO 8573-1 Class 3.1.1. Contact Altec AIR for details.

Filter Kit
Use with Air Dryer
Connection Size


(NPT)

Regulator Included
Replacement Filter Elements
AD11-MDH14
MDH1 - MDH4
1/8"
ED11-MDH14
AD11-MDH14R
✓
AD11-MDH56
MDH5 - MDH6
1/4"
ED11-MDH56
AD11-MDH56R
✓
AD11-VSA14
VSA1 - VSA4
ED11-VSA14
AD11-VSA14R
✓
AD11-HR14
HR1 - HR4
3/8"
ED11-HR14
AD11-HR14R
✓
AD11-HR57
HR5 - HR7
1/2"
ED11-HR57
AD11-HR57R
✓
AD21 Series Kits for Desiccant Air Dryers - (2) Pre-Filters & (1) After-Filter

*

(HR Series Air Dryer shown for reference ONLY)

Kits Include:

(1) X5 Grade - 5 micron Coalescing Pre-Filter
(1) XA Grade - 0.01 micron Coalescing Pre-Filter
(1) X1 Grade - 1 micron Particulate After-Filter

Rated ISO 8573-1 Class 3.2.1**
Differential Pressure Indicators -

Pop-up Indicators on AD21-HR14 thru AD21-HR57

Float Drains -

Automatic Float Drains on Coalescing Pre-Filters
Manual Drains on Particulate After-Filters

**HR Series Desiccant Air Dryers can be rated for
ISO 8573-1 Class 3.1.1. Contact Altec AIR for details.

Filter Kit
Use with Air Dryer
Connection Size


(NPT)

Regulator Included
Replacement Filter Elements
AD21-MDH14
MDH1 - MDH4
1/8"
ED21-MDH14
AD21-MDH14-R
✓
AD21-MDH56
MDH5 - MDH6
1/4"
ED21-MDH56
AD21-MDH56-R
✓
AD21-VSA14
VSA1 - VSA4
ED21-VSA14
AD21-VSA14-R
✓
AD21-HR14
HR1 - HR4
3/8"
ED21-HR14
AD21-HR14-R
✓
AD21-HR57
HR5 - HR7
1/2"
ED21-HR57
AD21-HR57-R
✓