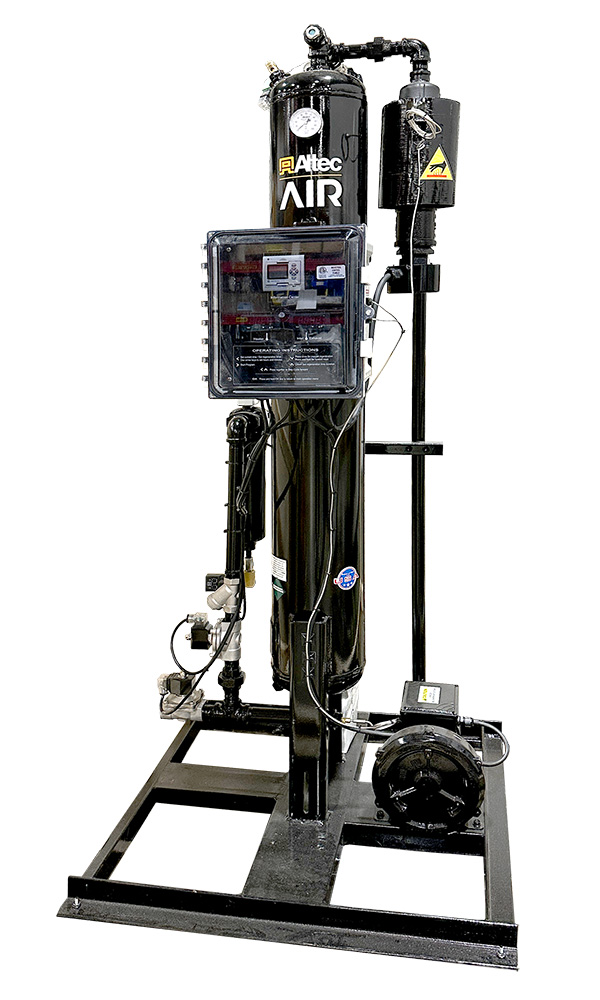 HBS Series Single Tower
Heat Regenerative
Air Dryers
60 to 3000 SCFM
The HBS Series Single Tower Heat Regenerative Desiccant Air Dryers cost less to operate than a refrigerated air dryer, while providing higher quality air. All HBS Series Dryers are provided with factory installed Pre and After-Filters, resulting in a true all-in-one package. With only three moving parts and a rugged construction, their simplicity will impress and perform beyond your expectations.
Rugged, simple design - may be the last dryer you will ever need
Less than 1% remaining RH compared to 30% RH for refrigerated dryers
No moving parts during the drying cycle eliminates downtime
No HVAC or refrigerants results in minimal environmental impact
Lower operating cost than a refrigerated air dryer
Outlet Dew Points of 0°F to -50°F
Standard Features:
Power Requirements (model specific) -

120 VAC, 1 Phase, 60 Hz
230 VAC, 1 Phase, 60 Hz
460 VAC, 3 Phase, 60 Hz

Maximum Pressure (model specific) -
Packaged Filters -

Oil Removal to 99.9% @ 0.3 to 0.6 Microns
Particle Removal to 99.9% @ 1 Micron

3-Way Electric Ball Valves
Low Watt Density Heater
Industrial Duty Blower
Simple Maintenance
Optional Features:
Alternate Voltages
Dual Filter & Bypass Packages
3-Way System Bypass
Environment Temperature Protection Kits
High Pressure (200 PSIG) Models
Bolt-Down Construction
Call for all Available Options
General Specifications:
INLET Flow:


(SCFM @ 100 PSIG)

Inlet / Outlet Ports


(NPT)

Power
Requirement
Maximum Pressure


(PSIG)

HBS-0060-1
60
1"
120 VAC,
1 Ph, 60 Hz
200
HBS-0100-1
100
HBS-0150-1
150
HBS-0200-2
200
1-1/2"
230 VAC,
1 Ph, 60 Hz
HBS-0250-2
250
HBS-0300-4
300
460 VAC,
3 Ph, 60 Hz
150
HBS-0400-4
400
2"
HBS-0500-4
500
HBS-0650-4
650
HBS-0800-4
800
HBS-1000-4
1000
3"

(FLG)

HBS-1250-4
1250
HBS-1600-4
1600
HBS-2100-4
2100
4"

(FLG)

HBS-2600-4
2600
HBS-3000-4
3000
6"/4"

(FLG)
Dimensions:
Width


(in)

Depth


(in)

Height


(in)

Weight


(lbs)

HBS-0060-1
32
32
76
270
HBS-0100-1
73
475
HBS-0150-1
76
560
HBS-0200-2
46
30
78
590
HBS-0250-2
640
HBS-0300-4
940
HBS-0400-4
50
36
84
1,070
HBS-0500-4
1,190
HBS-0650-4
1,215
HBS-0800-4
56
40
87
1,270
HBS-1000-4
1,385
HBS-1250-4
1,510
HBS-1600-4
62
42
94
1,715
HBS-2100-4
68
52
2,255
HBS-2600-4
95
2,575
HBS-3000-4
72
60
3,433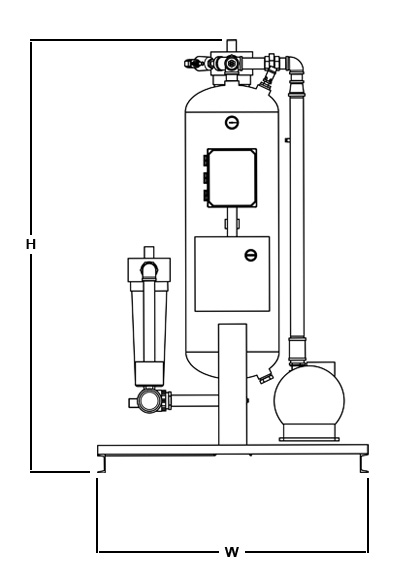 HBS Series Drying Process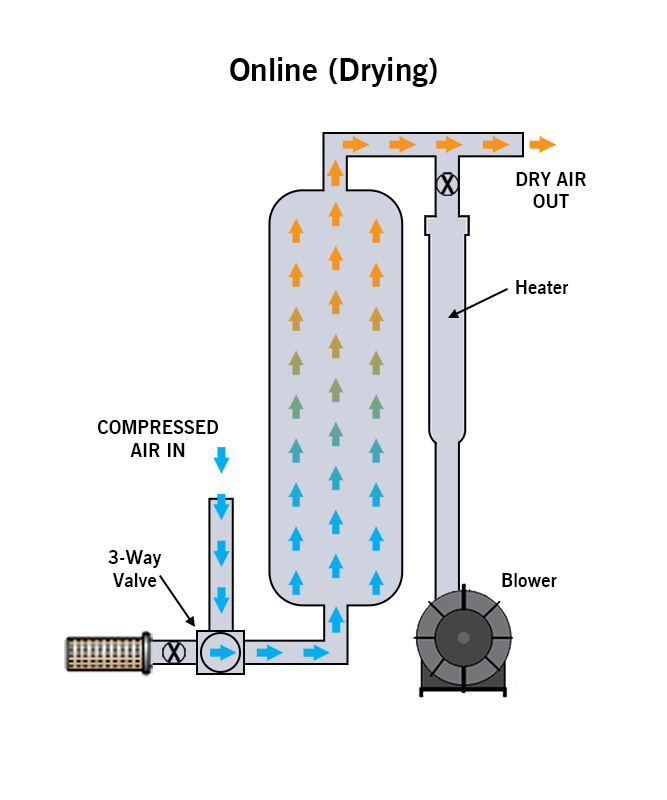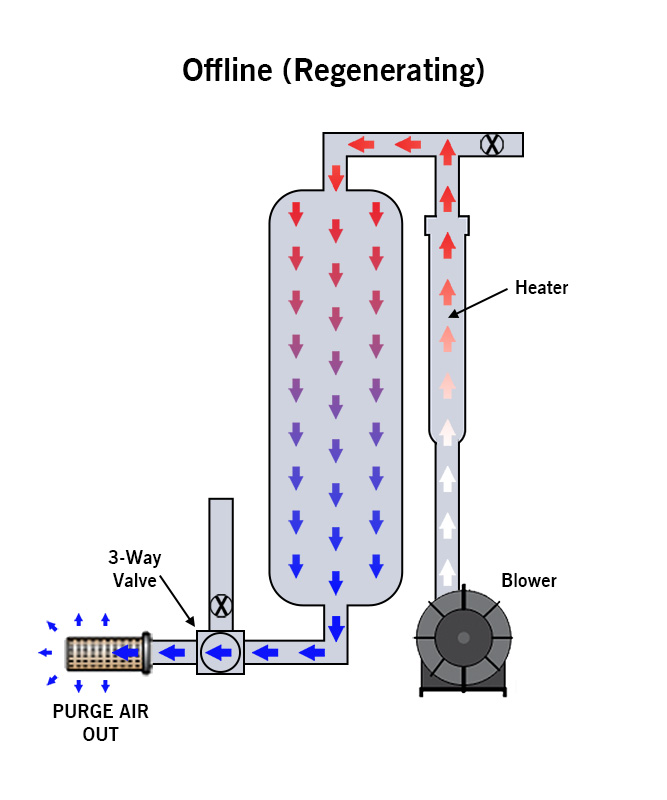 Online (Drying) - Compressed air, saturated with water vapor, flows upward through the Tower, where water molecules adhere to the porous surface of the Desiccant, resulting in Dew Points as low as -50°F.
Offline (Regenerating) - The Blower directs a steady stream of low pressure air through the Heater and then down through the Tower. The heated air desorbs the accumulated moisture from the Desiccant material, with the resulting purge air escaping to atmosphere through the exhaust muffler. Upon completion, the system is cooled and repressurized, ready for the next Drying cycle.
This tool will help you size the perfect HBS Series Desiccant Air Dryer for your Compressor Output and Environmental Conditions. Simply enter the data & conditions and you'll be presented with the Part Number for the HBS Series Air Dryer that will work optimally for those conditions. We will also provide Part Numbers for the Filter Kits that were created to match that HBS Series Air Dryer perfectly.
Please use the latest version of Chrome, Firefox or Safari.
Internet Explorer not currently supported.
---
---
Please use the latest version of Chrome, Firefox or Safari.
Internet Explorer not currently supported.
---
Need A Custom Sized Air Dryer?
Contact Altec AIR for assistance selecting the right dryer for your application.
All you need is the required Inlet or Outlet Flow Rate, Operating Pressure, and the required Dew Point.