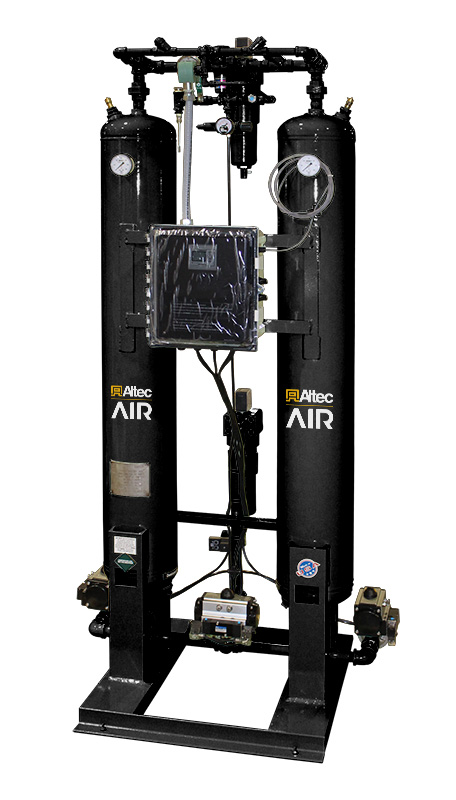 HHP Series High Pressure Heatless Regenerative Desiccant Air Dryers
25 to 1800 SCFM
Altec AIR's HHP Series High Pressure Heatless Desiccant Air Dryers are specially designed for higher pressure applications. They are available in three specific designs rated for maximum working pressures of 250, 500, and 1000 PSIG.
ISO 8573.1 Class 2 -40°F/C Standard Outlet Dewpoint
Factory installed Filters w/ Differential Pressure Gauges and Pre-Filter Timer Drain
Separate Re-Pressurization Circuit (HHP-0100 & Larger)
Feature Rich ETL Listed Pro-Logic Controller w/ NEMA 4 Enclosure
Regulated Control Air & Adjustable Purge
Standard Features:
Power Requirements - 120 VAC, 1 Phase, 60 Hz
Maximum Pressure -

250 PSIG (HHP-0250-0025 - HHP-0250-1000)
500 PSIG (HHP-0500-0050 - HHP-0500-1400)
1000 PSIG (HHP-1000-0075 - HHP-1000-1800)

Maximum Operating Temperature - 120°F / 49°C
ASME / CRN Approved Safety Relief Valves
Optional Features:
EcoTronic Dew Point Demand Control
Bypass Packages
Call for all Available Options
General Specifications & Dimensions:
INLET Flow:


(SCFM @ 100 PSIG)

Maximum Allowable Working Pressure (MAWP)


(PSIG)

Inlet / Outlet Ports


(NPT)

HHP-0250-0025-1
25
250
1/2"
HHP-0250-0055-1
55
HHP-0250-0140-1
140
1"
HHP-0250-0250-1
250
HHP-0250-0390-1
390
1-1/2"
HHP-0250-0570-1
570
HHP-0250-1000-1
1000
2"
HHP-0500-0050-1
50
500
1/2"
HHP-0500-0095-1
95
HHP-0500-0200-1
200
1"
HHP-0500-0350-1
350
HHP-0500-0550-1
550
1-1/2"
HHP-0500-0800-1
800
HHP-0500-1400-1
1400
2"
HHP-1000-0075-1
75
1000
1/2"
HHP-1000-0130-1
130
HHP-1000-0250-1
250
1"
HHP-1000-0400-1
400
HHP-1000-0750-1
750
1-1/2"
HHP-1000-1000-1
1000
HHP-1000-1800-1
1800
2"
Sizing based on the Compressed Air and Gas Institute CAGI ADF 200 Standard for compressed air of 100 PSIG inlet pressure, 100°F inlet temperature and -40°F/C pressure dew point providing ISO Quality to standard 8573-1 rating 1-2-1 for Compressed Air Quality.
HHP Series Drying Process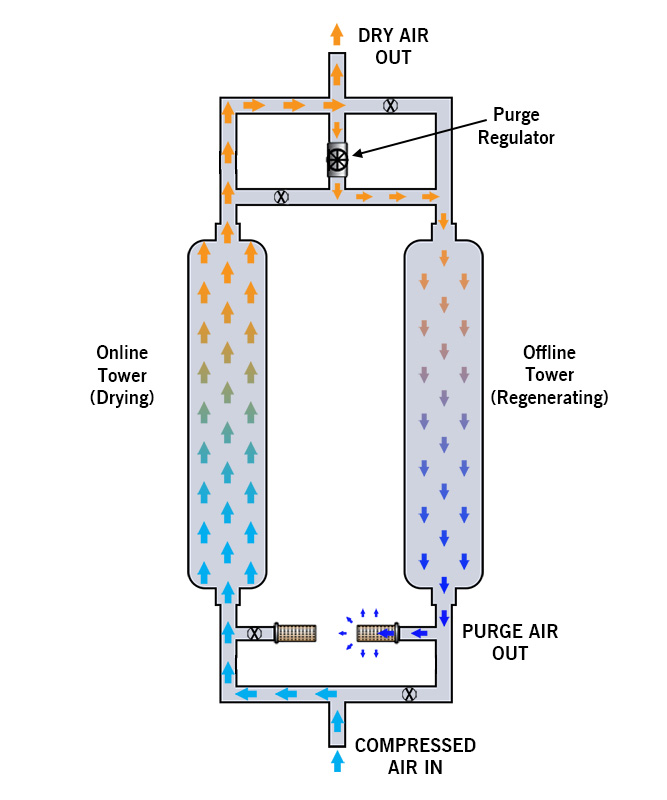 Compressed air, saturated with water vapor, flows upward through the Online (Drying) Tower. The water molecules adhere to the porous surface of the Desiccant, where the residual water content of the compressed air is lowered to a Pressure Dew Point (PDP) of -40°F or lower. Concurrently, some of this dry air is directed downward through the depressurized Offline Tower in a process referred to as Regeneration. This dry air sweep desorbs water molecules from the surface of the Desiccant and is exhausted to atmosphere, preparing that Tower for its next Online cycle. This process is known as Pressure Swing Adsorption (PSA) and is typically completed in a fixed 10-minute NEMA cycle, with the Towers alternating between Drying & Regenerating, typically every 5 minutes.
This tool will help you size the perfect HHP Series Desiccant Air Dryer for your Compressor Output and Environmental Conditions. Simply enter the data & conditions and you'll be presented with the Part Number for the HHP Series Air Dryer that will work optimally for those conditions. We will also provide Part Numbers for the Filter Kits that were created to match that HHP Series Air Dryer perfectly.
Please use the latest version of Chrome, Firefox or Safari.
Internet Explorer not currently supported.
---
---
Please use the latest version of Chrome, Firefox or Safari.
Internet Explorer not currently supported.
---
Need A Custom Sized Air Dryer?
Contact Altec AIR for assistance selecting the right dryer for your application.
All you need is the required Inlet or Outlet Flow Rate, Operating Pressure, and the required Dew Point.